Best price
GoPro HERO8 4K Waterproof Action Camera Black CHDHX-801 + 32GB Action Bundle
GoPro HERO8 4K Waterproof Action Camera Black CHDHX-801 + 32GB Action Bundle
Last updated on September 29, 2022 1:21 am
Disclosure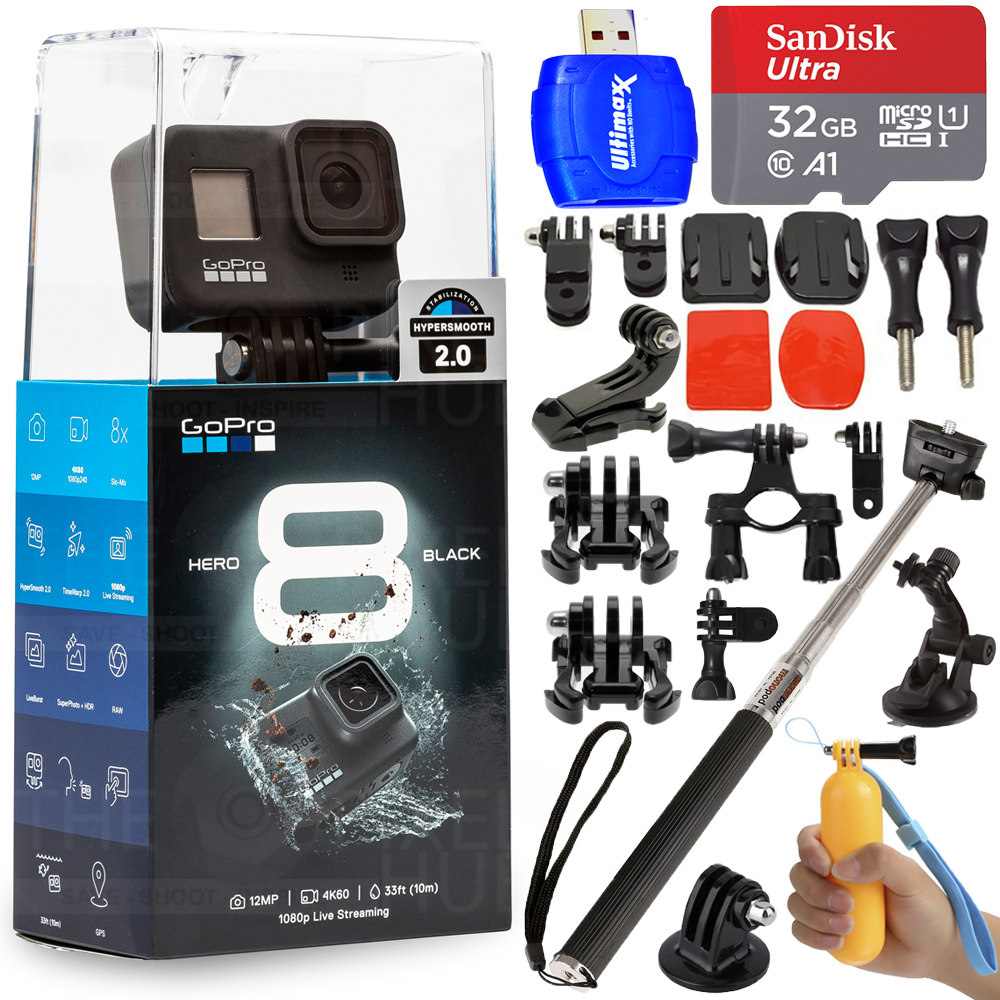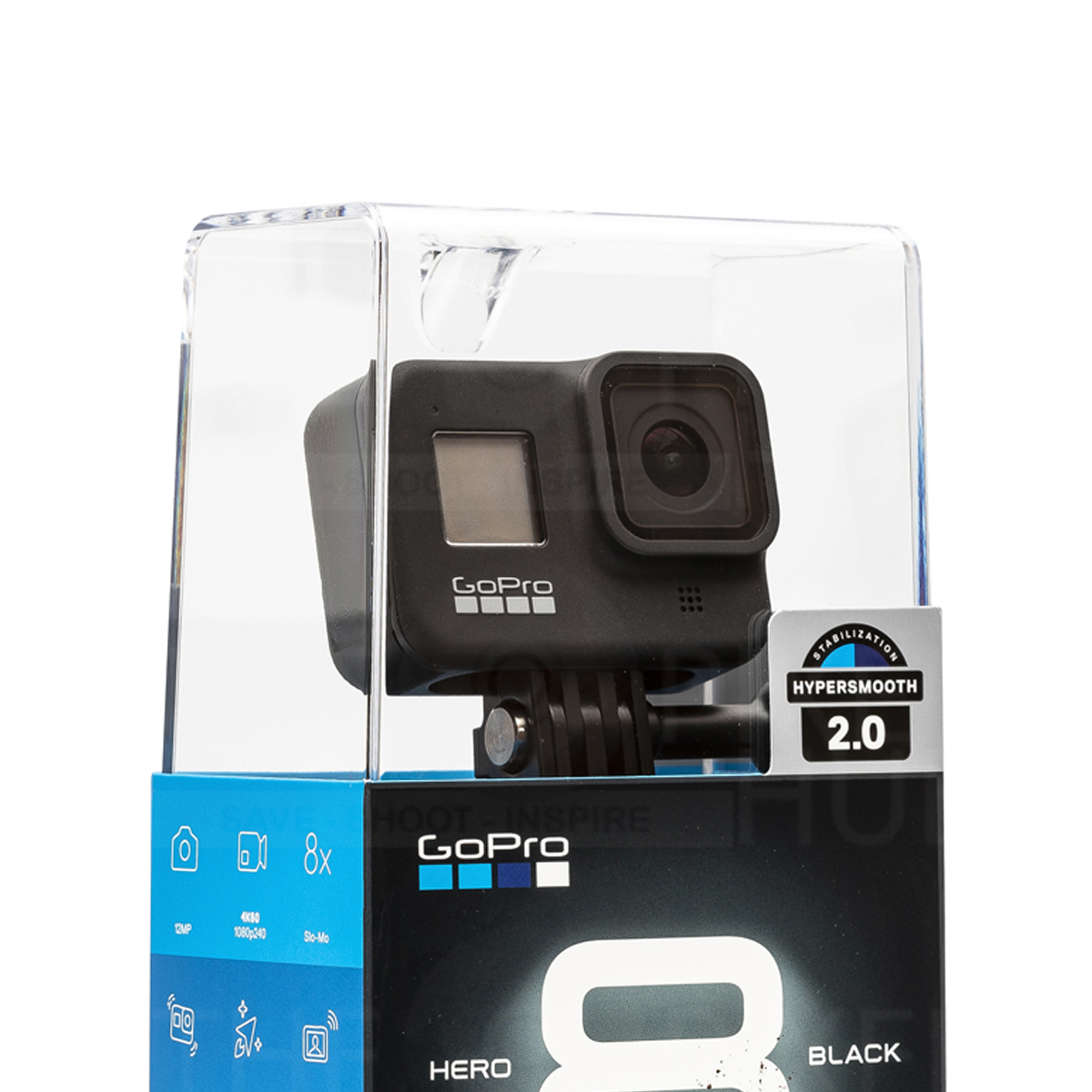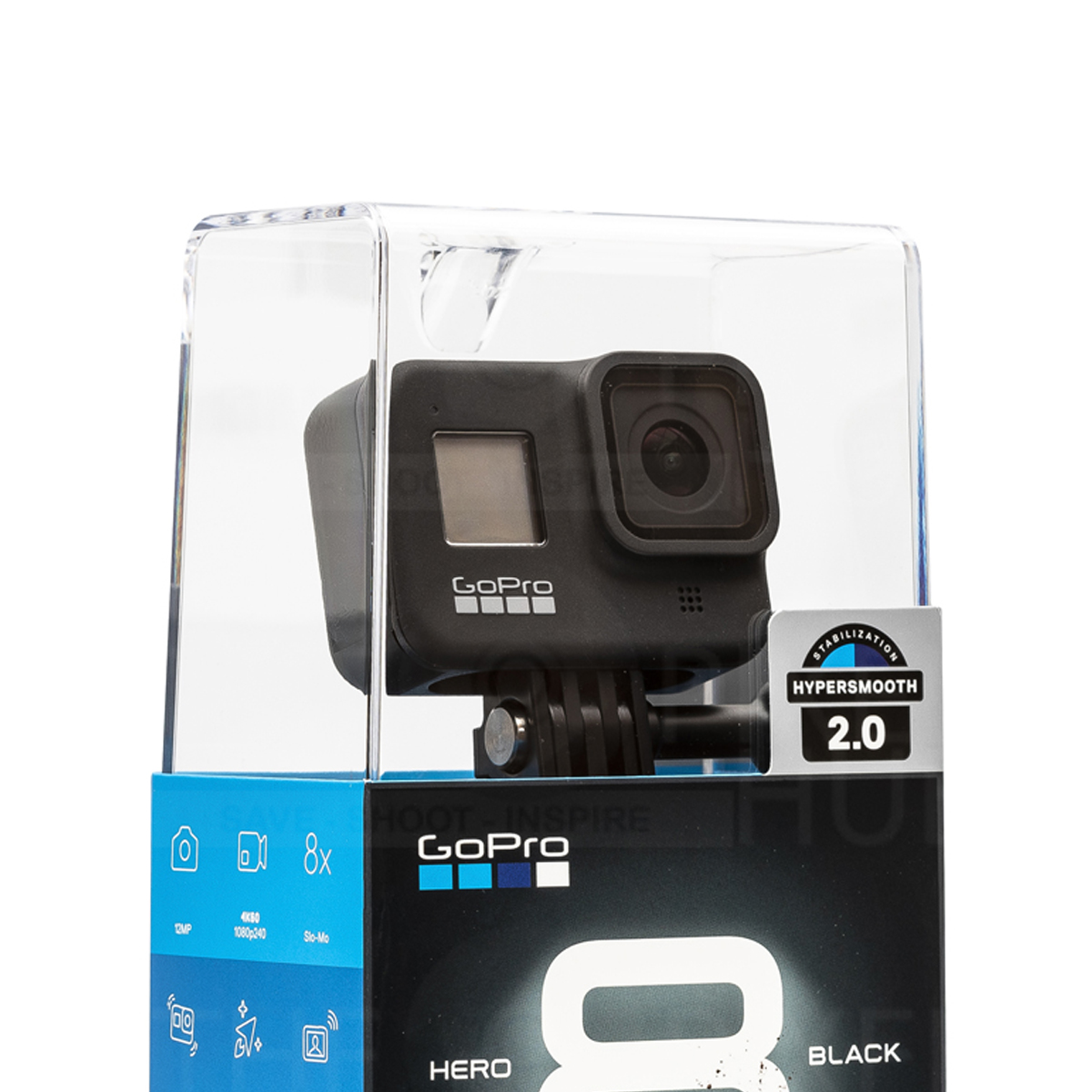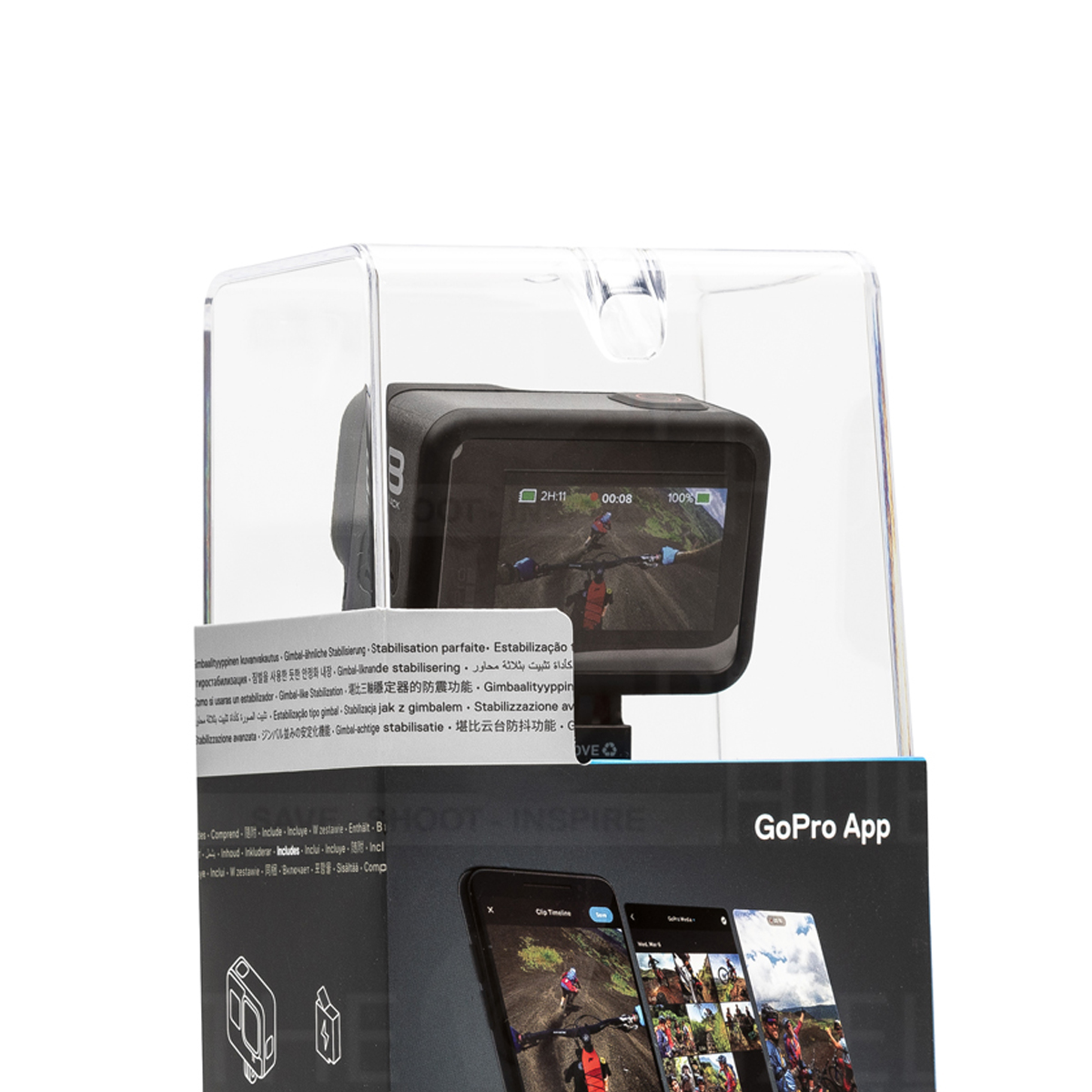 Kit Includes
GoPro HERO8 Black
SanDisk Ultra 32GB microSDHC UHS-I card with Adapter – 98MB/s U1 A1 – SDSQUAR-032G-GN6MA
High Speed SD/SDHC/Micro SD Reader/Writer
ULTIMAXX Helmet Front Mount Kit for GoPro
ULTIMAXX GOPRO HAND MONOPOD SELFIE
ULTIMAXX Handlebar Seatpost Mount with 3 Way Mount GoPro
Ultimaxx Mini Suction Cup For Car For Gopro
ULTIMAXX GOPRO FLOATY BOBBER
ULTIMAXX 2 Pack Black Buckle Basic Mount, for GoPro Hero 8/7/6/5/4/3+/3/2/1
GoPro HERO8 4K Waterproof Action Camera Black CHDHX-801 + 32GB Action Bundle
Detailed List of Items Included
Product Includes

GoPro HERO8 Black
Rechargeable Battery
Curved Adhesive Mount
Mounting Buckle
Thumbscrew
USB-C Cable
Limited 1-Year Seller Warranty

GoPro HERO8 Black

Short Description

Up to UHD 4K Video, Slow Motion
HyperSmooth 2.0 Video Stabilization
TimeWarp 2.0 Stabilized Time-Lapse Video
SuperPhoto 12MP Stills with HDR Support
Product Includes

SanDisk Ultra microSDXC UHS-I Card
SD adapter

SanDisk Ultra 32GB microSDHC UHS-I card with Adapter – 98MB/s U1 A1 – SDSQUAR-032G-GN6MA

Short Description

Ideal for Android-based smartphones and tablets
Transfer speeds of up to 98MB/s**
Rated A1 for faster app performance3 and UHS Speed Class U1 and Speed Class 10 for Full HD video recording and playback1
Shockproof, temperature-proof, waterproof, and X-ray-proof2
Read Speed: up to 80MB/s
Product Includes

SD/SDHC/Micro SD memory card reader/writer

High Speed SD/SDHC/Micro SD Reader/Writer

Short Description

Product Specifications

• Easy plug & play installation

• Reads & writes information from & to SD cards

• Conserve camera battery life

• Rapid data transfer

• High Speed USB

• Perfect for people on the go

• Limited life time warranty

MAC & PC system compatibility
• Microsoft XP and Window 7 & 8
• MAC 10.4.6 or greater
Product Includes

Helmet Front Mount Kit for GoPro

ULTIMAXX Helmet Front Mount Kit for GoPro

Short Description

–  It allows the camera to face in either direction to provide a first-person viewpoint of the action.

–  Allows for low-profile positioning of your camera on the front of your helmet, like a headlamp.

–  Also extends the camera out in front of the helmet for self-portrait videos and photos.

–  Great for narrating your latest adventure.

–  Compatible with ALL GoPro Models
Product Includes

GoPro Hand Monopod Selfie with Adapter

ULTIMAXX GOPRO HAND MONOPOD SELFIE

Short Description

– Collapses to 8.6 inches and extends all the way up to 39.37 inches giving you a full range of action camera shooting possibilities. You can take close and wide angle shots while surfing, diving, snowboarding, skiing, skateboarding, hiking, camping traveling and much more.

–  Easily interchange mounts with quick release camera and GoPro mount.

–  Ideal GoPro Mount: For travel, family and friends reunions, trips, as well as hiking, snowboarding, skiing, surfing and kayaking/scuba diving, snorkeling. No matter indoor or outdoor activities. It is perfect for above/underwater sports video record too
Product Includes

Handlebar Seatpost Mount with 3 Way Mount

ULTIMAXX Handlebar Seatpost Mount with 3 Way Mount GoPro

Short Description

Perfect for bicycle seatposts and handlebars, ski poles and more

Fits 0.75" to 1.4" (19.5mm to 35.56mm) diameter tubes

Fits smaller .43″ to 0.7″ (11mm to 18mm) diameter tubes with included adapter

Can be clamped to a pipe or pole to create a handheld boom

3-Way Pivot Arm allows for easy aiming

Protective liner prevents marring on mounting surface and enhances stability

Compatible with all GoPro HERO Session, HERO7, HERO6, HERO5, HERO4, HERO3+, HERO3, SJCAM, Xiaomi Yi 1 Action Cameras.
Product Includes

ULTIMAXX Mini Suction Cup For Car For GoPro

Ultimaxx Mini Suction Cup For Car For Gopro

Short Description

–  Attach your GoPro to cars, boats, motorcycles and more, Great for Apply to Car Windshield and Window as well as no dust, clean and smooth flat surfaces. Once applied, not affected by heat or cold.

–  Ultimaxx Suction Cup Mount for GoPro is designed to fit all GoPros.

–  Suction cup mount provides a broad range of motion and stability.

–  Simple and compact design, easy one press button install and release the suction cup.
Product Includes

Floating Handheld Bobber Grip for ALL GoPros

ULTIMAXX GOPRO FLOATY BOBBER

Short Description

FEATURES:

– High quality, compact and lightweight, it mounts directly to your GoPro no adapter needed.

– High visibility floating stick makes you easy spotting and retrieval.

– Perfect for snorkeling, scuba diving, surfing, swimming and other water sports.

– Suitable for all GoPro cameras: GoPro HERO7, HERO6, HERO5, HERO5 Session, HERO4, HERO3+, HERO3 and most action cameras.
Product Includes

2 Pack Buckle Basic Mount for GoPro Hero 7/6/5/4/3+/3/2/1 (Black)

ULTIMAXX 2 Pack Black Buckle Basic Mount, for GoPro Hero 8/7/6/5/4/3+/3/2/1

Short Description

–  Compact size, excellent quality and light weight.

–  Can connect directly with the waterproof shell.

–  Applicable to the helmet, chest band, plays well in transfer function.

–  table and solid, not affected by water.

–  Compatible with all GoPro Models
Long Description
GoPro augments its already impressive action camera line with the HERO8 Black, the versatile next-generation action cam designed to capture smooth, stable footage of your latest adventure, from a simple boat trip to a wild jump-off-a-mountain ride. The HERO8 Black features updated HyperSmooth 2.0 stabilization to produce smooth, gimbal-like movement at all supported frame rates, without the need for a gimbal. Additional updates include a sleeker physical design with a "folding fingers" type base for fast mounting, a redesigned battery door for quicker battery changes, a lens with twice the impact resistance as the HERO7, an optional Battery Mod for nearly 2.5x more battery life, an optional flip-up Display Mod to make viewing your frame easier, an optional LED Light Mod, and an optional Media Mod to expand your accessory possibilities.
The GoPro HERO8 Black supports up to UHD 4K video resolutions, and time-lapse, up to 1080p240 slow motion, and super-slow-motion video. Still images can be captured in up to 12MP resolution in bursts of up to 30 images per second with the updated SuperPhoto with HDR support that helps reduce blur and enhance detail in low-light situations. It also features an updated Night-Lapse function to shoot and process up to 4K time-lapses at night. The LiveBurst function allows you to record 1.5 seconds before and after your photo to give you more choices for the best frame. The lens field of view (FOV) choices have also been updated to four modes: Narrow, Linear at 24.4mm, Wide at 16.5mm, and SuperView at 15.1mm.
Like its predecessor, the HERO8 Black supports direct streaming to Facebook Live. It's also waterproof to 33′, suiting it for surfing, snorkeling, and swimming activities. Separately available floats and housings are available separately for additional water support and even deeper underwater activities down to 196′. The touchscreen provides quick and easy management, but when your hands are full, the HERO8 Black understands 15 voice commands in over ten languages and accents so you can verbally control the HERO8 Black. Just shout "GoPro, take a photo" and your HERO8 will use your current settings to snap a photo, making selfies a breeze.
New Features in HERO8 Black
Smaller, more streamlined design
Swapping mounts and changing batteries has been made even faster
Lens is two times more impact resistant
Improved HyperSmooth 2.0 stabilization and TimeWarp 2.0 time-lapse
Night-lapse and LiveBurst support
Slow motion up to 1080p240 and stability improvements
Change easily between lens FOV with Narrow, Linear, Wide, and SuperView modes
Media Mod option can add more lighting and audio as well as another screen
Optional Battery Mod multiplies runtime 2.5x
Optional Display Mod and Light Mod add more capabilies
HyperSmooth 2.0 Video Stabilization
Get gimbal-like smoothness without the bulk of a gimbal. HERO8 Black predicts your movements and corrects for camera shake to deliver even smoother footage than before.
SuperPhoto with HDR
Get the best photos automatically. With SuperPhoto, HERO8 Black intelligently applies HDR, local tone mapping, or noise reduction to optimize your shots.
TimeWarp 2.0 Video
Capture super-stabilized time-lapse videos while you move about a scene. Increase the speed up to 30x to turn longer activities into shareable moments.
LiveBurst
Records 1.5 seconds before and after your still shot so you can choose the best single frame for the perfect photo, or share the brief video recorded.
Live Streaming
Share your story live over Facebook Live while saving your streamed videos to your SD card.
4K60 Video and 12MP Photos
The camera shoots up to UHD 4K resolution video and 12MP stills.
Shoot Vertically
Flip the camera to the side and capture photos and videos in portrait orientation for social media updates.
Features
Control your HERO8 Black hands-free with over 15 voice commands and accents like "GoPro, take a photo" and "GoPro, start recording"
Natively waterproof down to 33′ without a housing
Slow things down to 8x to relive the moment with slow motion
The intuitive touchscreen features three main capture modes with streamlined settings
Frame your photos and videos in Touch Zoom by simply touching the screen (operates in select video modes)
Face, Smile, and Scene Detection functions
Auto-transfer to your smartphone with the GoPro app for quick social media updates
GPS Performance Stickers display your speed, distance, and location
Create QuikStories with the GoPro and Quick mobile apps
Advanced noise suppression actively filters out wind, vibration, and handling noise for crisper, clearer audio quality
Capture JPEG photos for easier storage, or shoot in raw for the highest quality
GoPro Apps
GoPro and Quik apps allow you to access and edit your GoPro footage with simple-to-use yet powerful functions. QuikStories combines the functionality of both apps, automatically downloading GoPro footage from your HERO8 Black and composing an easily shareable montage of your adventures on the spot.
GoPro (iOS/Android)
Use your iOS or Android device to live-preview and play back shots, control your GoPro, and share on the fly
– Live preview makes it easy to frame the perfect shot
– Get full remote control of all camera functions
– Share photos and videos to Instagram, Facebook, Twitter, and more
GoPro Quik (iOS/Android)
Edit videos with just a few taps
– Analyze your photos and video clips to find great moments
– Add transitions and effects, and sync everything to the beat of the music
– Customize your story with text, filters, music, and more
GoPro Quik | Desktop (Mac/Windows)
Import and edit your videos with just a few clicks
– Transform your footage into edited videos synced to music
– Automatically import your photos and videos and share your best shots
– Comes bundled with GoPro Studio for more advanced editing
SHIPPING
We are always working hard to ensure your package arrives as soon as possible. Please understand that some factors like weather, high postal traffic, and the performance of shipping companies are outside of our control.
We offer free shipping to the lower 48 states and ship within 1 business days of payment, usually sooner. We do not accept P.O. Boxes for orders over $750. Please provide a physical address.
We do not allow reroutes or packages to be help at shipping hubs.
We offer 3 levels of expedited shipping options at checkout.
For shipping outside of the continental USA, we only use eBay's Global Shipping Program. The item is shipped to KY and then sent to the rest of the world. International customers are responsible for all duties and taxes. Continue to check out in order to calculate costs for shipping the item to your country. Messages regarding eBay's Global Shipping Program MUST be directed at eBay EXCLUSIVELY.
Refused shipments: A 10% restocking fee and shipping charges will be imposed on all refused shipments or return shipments due to incorrect address.
Cancellations: once we receive an order from eBay it can no longer be canceled. The customer can either return or refuse the package. In order to track down an order for the purposes of canceling it, would completely disrupt our business, our shipping department, and interfere with our productivity.
Price protection Policy: Because prices fluctuate, we do not offer price Protection. Once an order is shipped, all sale prices are final.
We do not sell to resellers: we work hard at getting the best deals for the consumer not the reseller. Those order will be cancelled without any notice.
RISK OF LOSS: All items purchased from eBay are made pursuant to a shipment contract. This means that the risk of loss and title for such items pass to you upon our delivery to the carrier. We are not responsible for any consequential or incidental damage resulting from the sale or use of any merchandise bought from us. We are responsible for the monetary value of the merchandise only.
RETURNS
We offer a 30-Day Return Policy on items which you are not completely satisfied with. Once the return is received it can take up to 3 business days to process the return.
All returns must include the original packaging as the item was received. Items and packing must not be marred, mishandled, or tampered with by an unauthorized repair person. Returns must be free of any physical or cosmetic damage.
Defective Items can be returned for an exchange or refund within 14 days of purchase only if the item is in new condition and free of any cosmetic damage. If the product has cosmetic or physical damage, it will be sent to the manufacture for repair in the customer's name.
We are not responsible for personal data or items left in returned merchandise. When making your return, please include a copy of the invoice and a short note stating the reason for your return. In your note, please specify whether you wish to exchange the product or receive a refund.
CUSTOMER SATISFACTION
We try our very best to make sure every customer is completely satisfied. If there's a problem, message us! We're happy to help.
The Pixel Hub is a full-service camera online store and photographic equipment retailer that has been in business for over 15 years. Our staff is made up of accomplished photographers and experienced professionals who are extremely knowledgeable about the products we offer and the ever-advancing photography industry. We are constantly striving to evaluate, obtain and offer you the newest and most exciting products available, with an unparalleled commitment to customer service.
The Pixel Hub carries almost all the major brands of photographic equipment. We offer a wide range of Digital and Film Cameras, Lenses, Flashes and Accessories. We also stock many other types of digital and photo imaging equipment, including high-quality photo printers, film scanners and more.
In 1999, we expanded our business to the Internet as The Pixel Hub on eBay. We quickly became the largest eBay Seller specializing exclusively in the sale of photographic equipment and accessories. The Pixel Hub has grown considerably since then, but we have maintained our focus on the very core of our success…our customers. As our feedback rating shows, we do everything we can to make every customer's experience a positive one
Related Products
Specification:
GoPro HERO8 4K Waterproof Action Camera Black CHDHX-801 + 32GB Action Bundle
| | |
| --- | --- |
| Brand | GoPro |
| MPN | CHDHX801 |
| Color | Black |
| Features | Live Streaming, Voice Control, Touch Screen, Waterproof |
| Model | GoPro HERO8 |
| Series | GoPro HERO |
| Media Format | microSD (256 GB Maximum) |
| Recording Definition | Ultra High Definition |
| Screen Size | 2.0 in |
| Type | Helmet/Action |
| Connectivity | USB 3.0 Type-C |
| Storage Type | Removable (Card/Disc/Tape) |
| Manufacturer Warranty | Limited 1-Year Seller Warranty |
| Manufacturer Color | Black |
| Custom Bundle | Yes |
| UPC | 0818279023282 |
39 reviews for
GoPro HERO8 4K Waterproof Action Camera Black CHDHX-801 + 32GB Action Bundle